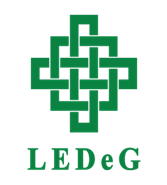 The Ladakh Ecological Development Group (LEDeG) envisions to promote Ecological and Sustainable Development that harmonizes with and builds on the local Traditions & Culture in Ladakh. It is a grassroots organization that has been working in the region since 1983 towards the sustainable development of Ladakh, while preserving its essence.

LEDeG's mission is to demonstrate ecologically sound development models and to advocate regionally appropriate development policies to ensure Sustainability. For last close to three decades, LEDeG has been working towards bettering the lives and livelihoods of the rural communities living in the remote villages of Ladakh and also trying to influence development policies at the regional level. Currently LEDeG is working on an Urban Project called "Livable Leh", which focuses on achieving UN Sustainable Development Goals (SDGs) i.e. SDG 6 - on Clean Water and Sanitation and SDG 11 on Sustainable Cities and Communities; funded by the EU and BORDA.

Because of Similarity in the Objectivity of the Both Organizations, IISD Research and Knowledge Support Centre for Sustainable Development in Ladakh has Joined hand with LEDeG as its esteemed Local Partner in its Mission of ensuring Sustainability to the People and the Land of UT-Ladakh.
__________________________