Department of Information and Public Relations Leh, UT-Ladakh

4-Days Training Organised by PHED in Collaboration with IISD, New Delhi Concludes
Date: 15th April, 2021
Duration: 12-15th April, 2021 (4 Days)

Venue:- Hotel Grant Dragon, Leh and NIC Center, Kargil, UT-Ladakh
Published by: Department of Information and Public Relations, Leh, UT-Ladakh
Organized by: Public Health Engineering (PHE) Department, UT-Ladakh Administration and Indian Institute Of Sustainable Development (IISD), New Delhi.

Chief Guest: Shri Shrikant Balasaheb Suse, IAS,
Deputy Commissioner (DC), Leh and CEO, LAHDC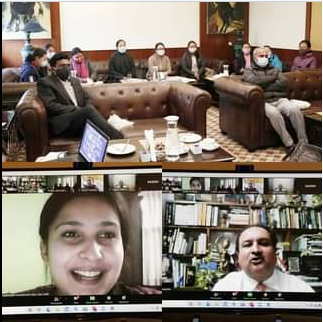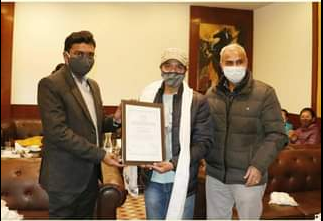 Leh, April 15: Public Health Engineering (PHE) Department, UT Ladakh, in collaboration with the leading National Public Policy Think Tank and Scientific Research Organisation Indian Institute of Sustainable Development (IISD), New Delhi, organised a four-day (12th -15th April) Online Training Program in Zoom Platform, for the Water Testing Laboratory personnel from Leh and Kargil district. This four-day training was held under the Water Quality Monitoring and Surveillance Program (WQM&SP) of Jal Jeevan Mission (JJM).

The training aimed to develop international standard human resource required for managing water testing laboratories. The accreditation of the water-testing laboratories with the National Accreditation Board for Testing and Calibration Laboratories (NABL) is a mandate of the Jal Jeevan Mission (JJM).

Deputy Commissioner (DC), Leh, Shri Shrikant Balasaheb Suse, IAS was the chief guest for the concluding/valedictory ceremony. District Superintending Engineer, PWD, Leh Pradeep Kumar and District Superintending Engineer, PHE Kargil, Ved Prakash also attended the event.

DC, Leh, Shri Shrikant Balasaheb Suse, IAS appreciated PHE and IISD's efforts for organising such trainings for Ladakh as JJM focuses on providing quality water to all the households. He stressed the role of water testing laboratories in providing safe and potable drinking water. He shared that the UT Administration is establishing water testing laboratories at the district and sub-division levels. DC, Leh exhorted that such capacity-building trainings would enhance the quality management aspect of JJM. A total of 21 laboratory personnel who participated in the training were accredited as certified internal auditors.
For Details Please Visit the Facabook Link
For Details Please Visit the Instagram Link
---
3 Days IISD-Workshop
"Drinking Water Supply and Management for Leh Town, UT-Ladakh"

Inaugural Address is delivered by Shri UP Singh, IAS Secretary MoWR as Chief Guest
Date: 11th September, 2020

Hon'ble Chief Guest Shri Upendra Prasad Singh, IAS, Secretary, Ministry Of Water Resources delivered inaugural address at the Three Days IISD-Workshop on "Drinking Water Supply and Management for Leh Town, UT-Ladakh" on Microsoft Team Webinar Platform on 11th September, 2020, emphasizing the importance of Water as a precious natural resource and how it is the right time that we can participate at all stakeholder levels and make coherent efforts to use it in a sustainable way. He educated the participants about how the government is readily taking proactive measures to move towards a water sustainable future in accordance with the vision of "Har ghar jal". He encouraged the participants in full spirit to participate and come up with initiatives at the local level for Leh to be a model which could inspire the rest of the country.

Indian Institute of Sustainable Development (IISD), - is a national think tank and scientific research institute, is thoroughly committed and moving towards this goal with an attempt to make India self sufficient in water resources, through a series of conservation measures at grassroot level involving communities and every citizen of the nation, creating a Jan Aandolans to make it happen. IISD's Research and Knowledge Support Centre for Sustainable Development in Ladakh, along with Carbon Minus India (CMI) and Ladakh Ecological Development Group (LEDeG) at Leh - as Our Local Partner, is working together in the Leh Water Audit Project as a first step, to make Leh a better place for its people to live in, under the Livable Leh Initiative. This workshop was the first of the many such initiatives, which would no doubt foster the same in the highest town of India.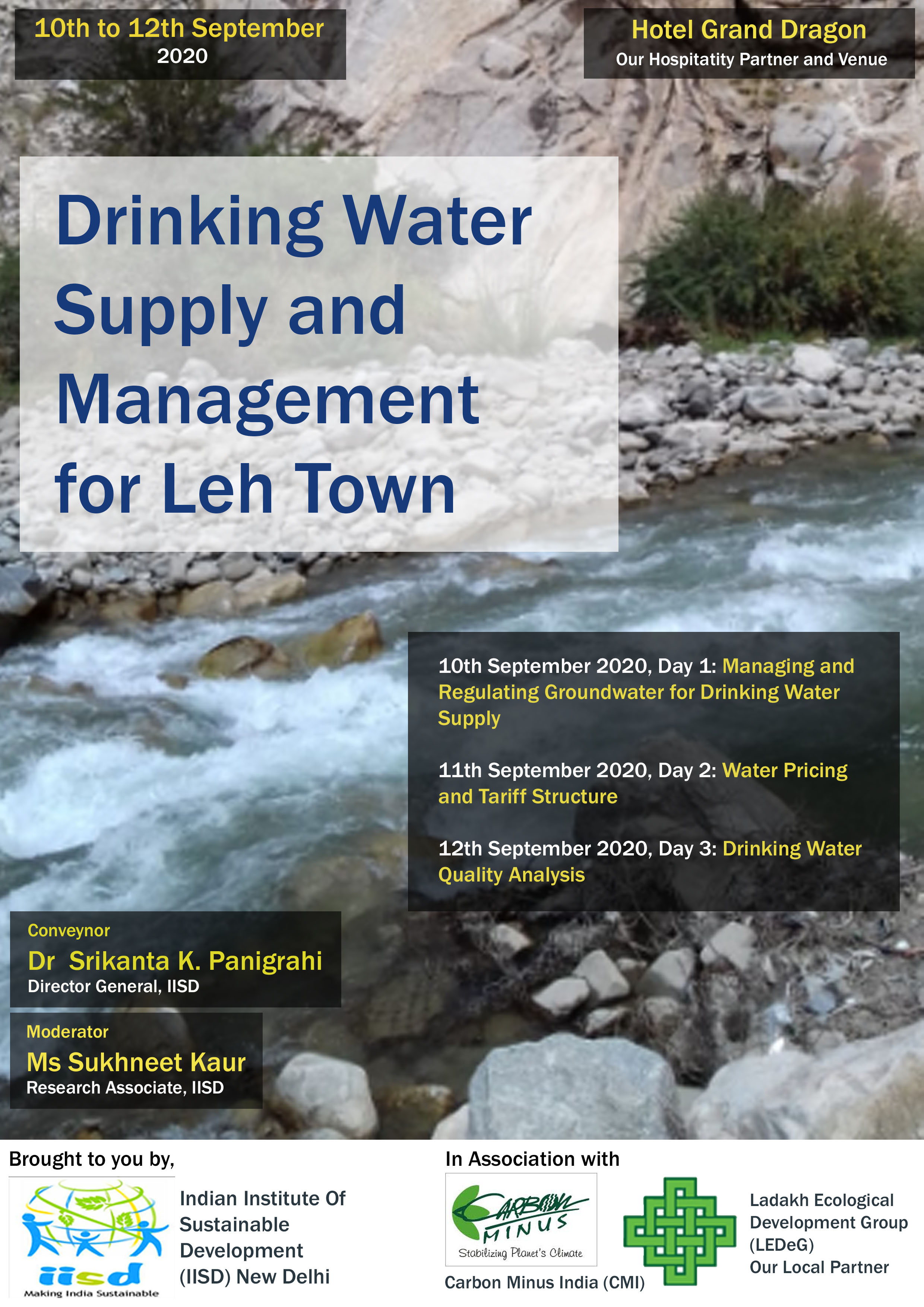 Please Download the Detailed Press Release in the Link
---